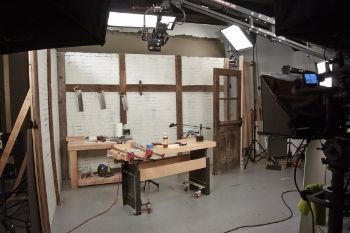 I just got home yesterday from a four day trip to Cincinnati where I was filming two very exciting projects with Popular Woodworking magazine. The first project is an instructional DVD tentatively titled 'Super Tune Your Backsaws', and the second project were video segments for a forthcoming on-line class on how to build your own backsaw. The former will be similar to Chris Schwarz's recent 'Super Tune a Handplane' but for an old backsaw and hosted by yours truly, and the latter will include 4 half-hour video segments available for download, plus live web-based interaction with myself and a forum for questions and discussion, all hosted by Pop Wood.
The whole experience was a total blast, and it was especially cool getting pampered by the awesome Pop Wood staff. I've struggled with what to write about the whole trip, as I've been a bit overwhelmed with positive emotions, so I've come up with a brief list of thoughts and insights. Here's some highlights on what I learned on my trip…
1. Cincinnati is a very unique city. They put chilli over spaghetti and eat it. On purpose. And they like it.
2. But they don't like pornography. Strange…
3. The Pop Wood office is not a cushy corporate environment. Its a converted old warehouse with more mice than people.
4. The mixed gender video crew likes off-color humor. The nut jokes alone could make a 45 minute gag reel.
5. Don't call Megan Fitzpatrick a tool collector. (Even though she has 4 dovetail saws)
6. Cincinnati is part of the South.
7. Cincinnati is part of the North.
8. Chris Schwarz likes to drive fast.
9. The Pop Wood workshop is best described as a cross between Hiroshima c. 1946 and the Bermuda Triangle.
10. I'm the luckiest SawWright in the world. I have no idea what possessed such a reputable group of woodworkers and writers to back a lame horse like mine, but I certainly enjoyed the hell out of myself.
For details on the coming DVD and info on the on-line class, stay tuned here.
-Matt